In today's interconnected world, running payroll for a global team can be a daunting task; the concept of remote work has grown exponentially, enabling businesses to tap into a global talent pool, Deel here for you. However, with this expansion comes the need for streamlined administrative processes, especially in terms of managing global payroll. This is where Deel, a pioneering web platform, steps in. In this blog post, we will delve into how Deel has positioned itself as the premier choice for simplifying and optimizing global payroll processes. There are so many different countries and regulations to keep track of, and it can be difficult to find a solution that is both compliant and affordable.
A holistic Approach to Global Payroll:
Deel offers a comprehensive solution for businesses dealing with international and remote teams. Its web platform encompasses a wide array of features that help simplify the complexities of global payroll. From creating compliant employment contracts to ensuring accurate and timely payments, Deel covers all the bases. This holistic approach eliminates the need for juggling multiple tools and services, providing a one-stop solution for global payroll needs. Deel equips teams with the tools, features, and guidance they need in a single platform to eliminate hiring and management borders. Businesses and teams can work together easier than ever and gain access to new opportunities.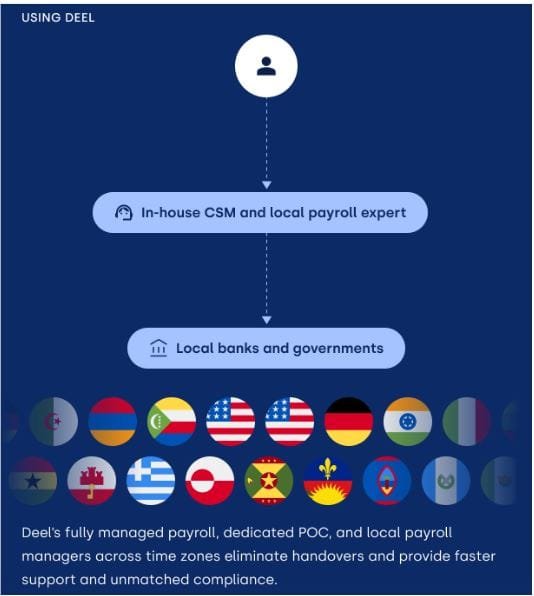 That is where Deel comes in. Deel is a web product and platform that makes it easy to run global payroll. With Deel, you can onboard and pay employees in over 100 countries, all from one central dashboard.
Here are some of the features that make Deel the best web product and platform for global payroll:
Compliance: Deel is compliant with all the latest regulations in the countries where you operate. This means you can be confident that you are paying your employees correctly and avoiding any fines or penalties.
Affordability: Deel is a very affordable solution, especially compared to traditional payroll providers. You only pay a small fee per employee, per month.
Ease of use: Deel is very easy to use. You can onboard and pay employees in minutes, and the platform is fully automated so you do not have to worry about the day-to-day tasks of running payroll.
Global reach: Deel supports over 100 countries, so you can hire and pay employees anywhere in the world.
Integrations: Deel integrates with your existing HR and accounting systems, so you can easily keep track of your global payroll data.
There are many benefits to using Deel for your global payroll needs. Here are a few of the most important ones:
Save time and money: Deel can save you a significant amount of time and money on your global payroll. The platform is very easy to use, and the automated processes can help you avoid costly errors.
Reduce risk: Deel can help you reduce your risk of compliance violations. The platform is compliant with all the latest regulations in the countries where you operate.
Improve efficiency: Deel can help you improve the efficiency of your global payroll operations. The platform can help you automate tasks, track data, and generate reports.
Expand your reach: Deel can help you expand your reach by making it easy to hire and pay employees anywhere in the world.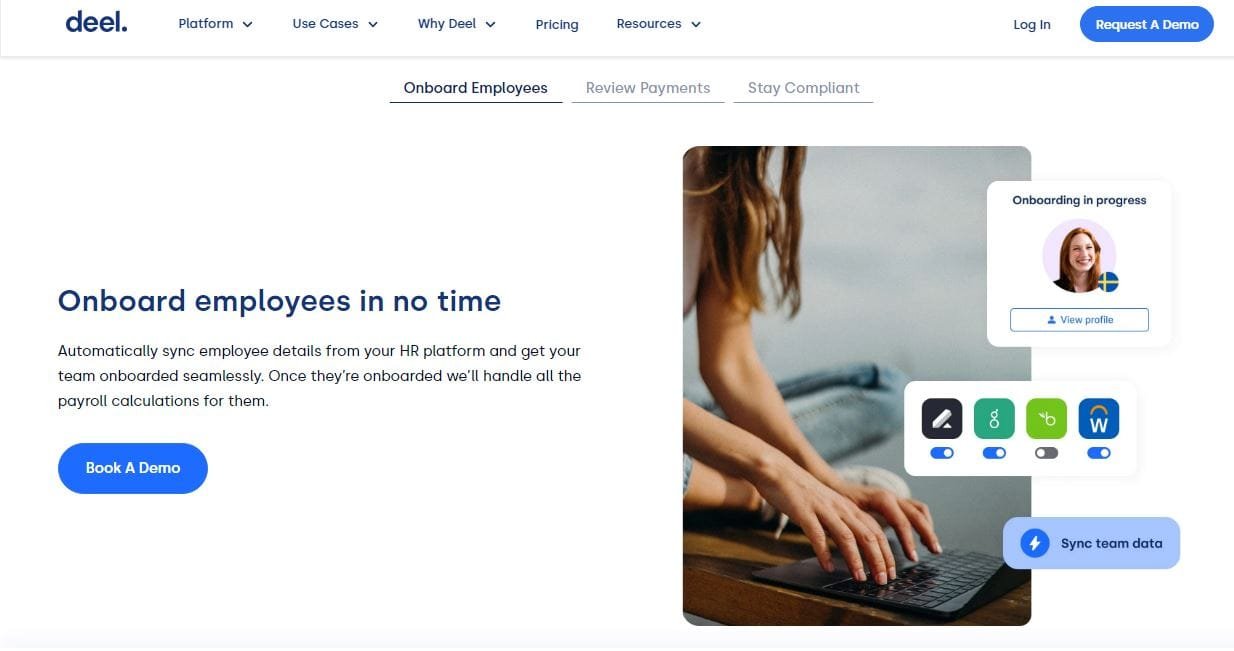 If you are looking for a web product and platform that can help you run global payroll easily, affordably, and compliantly, then Deel is the best option for you. With Deel, you can focus on growing your business while Deel takes care of the details of your global payroll. Deel has undoubtedly emerged as a frontrunner in the realm of global payroll management. Its all-encompassing web platform addresses the challenges of hiring and managing remote employees from around the world. By providing tools for creating contracts, ensuring legal compliance, automating payments, and offering data security, Deel streamlines the complex process of global payroll. Businesses looking to tap into the benefits of a global workforce while maintaining operational efficiency and compliance should consider Deel as their go-to solution.
Affiliates Disclosure: The above article has affiliate links, and we will earn commission if you make certain actions.